Fire Extinguisher Testing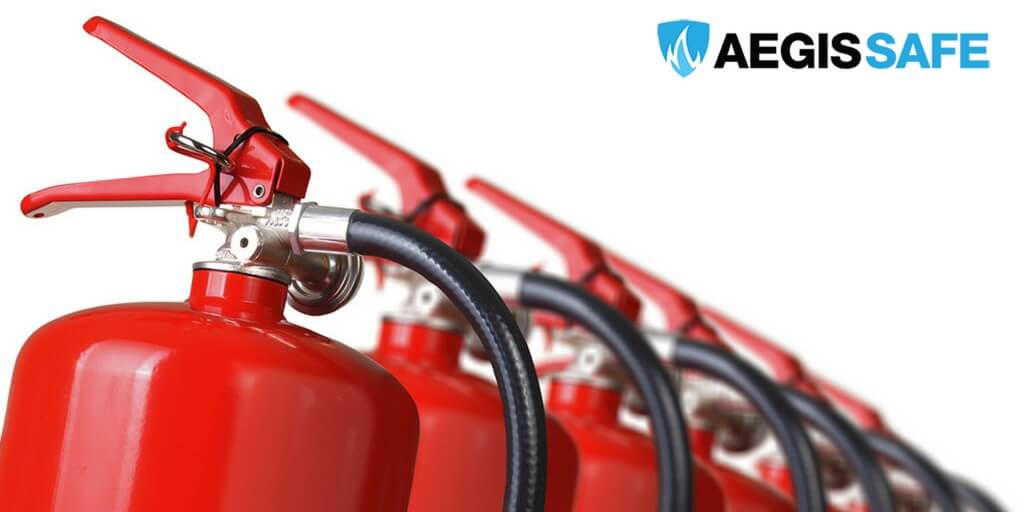 We carry out all fire extinguisher testing in line with the Australian Standards (AS1851-2012) and the BCA to ensure that you, your property and investments are safe.
Fire extinguisher testing and maintenance:
Your fire extinguishers must be tested at regular intervals as specified by the Australian Standards. Here are some guidelines you should follow for your fire extinguisher testing.
Fire extinguisher testing on a regular basis, typically twice a year, as per AS1851-2012 get your fire extinguisher serviced through a state or federally authorized agency.
Quick inspections should be carried out periodically to make sure everything is in proper order.
You should make sure that all fire devices and your fire extinguishers are in proper working condition. This can be ensured by having a reputable fire company check your equipment a carry our fire extinguisher testing.
Most varieties of chemical fire extinguishers contain a number of chemicals inside the canister. This requires an occasional shaking, because otherwise some heavier chemicals tend to settle down, thereby destroying the homogeneous mixture and this can greatly reduce efficiency. You need to check if your fire extinguisher requires such regular shaking, typically once a month. If so, do not neglect this.
Always check for and ensure easy accessibility to your fire extinguisher by all family members. This is very important because if it isn't accessible in the time of emergency, then there is no use having it in the first place.
Check for leaks, dents, rust and wear and tear. Ensure that seals and pins are unbroken.
Fire extinguisher testing standards
Portable Fire Extinguishers AS1851 2012 – Fire Extinguisher Testing – AS1851 requires that your fire extinguishers be tested and tagged every 6 months. Fire extinguishers need to be refilled and pressure tested every 5 years.
AS2444 requires fire extinguishers to be located approximately every 20m – 30m in your premises with appropriate signage.
After we conduct your fire extinguisher testing we can provide you with:
Annual Fire Safety Statements (AFSS)
Annual Test Record Certificates (ATRC)
We carry out fire extinguisher testing for the following situations:
Fire extinguisher testing for home based needs.
Fire extinguisher testing for small businesses.
Fire extinguisher tests for large businesses in large offices.
Fire extinguishers tests for residential buildings and apartments.
Fire extinguishers test for shopping centers and business parks.
Testing fire extinguishers for schools and universities in Sydney.
Testing fire extinguishers for factories, industries, storage complexes, etc.
We offer the following fire protection testing services:
Portable fire extinguisher testing
Emergency and exit lighting testing
Fire panel testing
Fire alarm testing
Fire pump testing
Fire hose reels testing
Fire hydrant testing
Fire door testing
Smoke alarm testing
Fire extinguisher testing services
fire extinguisher testing is an important part of protecting the usefulness of your fire safety plan. While fire equipment technicians can test your fire extinguishers and re-charge them when necessary, they are often only responsible for performing basic servicing routines such as inspections and testing. Fire equipment technicians can offer advice and guidance, but they cannot make you change to procedures or equipment that your workplace relies on for fire safety.
As a business manager, you will want to carefully review all safety plans that include fire extinguisher testing practices, making sure that you are in compliance with AS1851.1. A solid fire extinguisher testing plan includes making sure that your fire safety equipment is ready to perform for any fire emergency. There are checks that you can do for making sure your fire safety policies are in order.
Could your workplace environment impact fire extinguisher performance?
Fire extinguishers subjected to harsh environments may require additional inspections, maintenance and testing. For example, extreme temperatures, overexposure to sunlight or moisture, dust or dirt filled areas, and heavy vibrations from industrial machinery could increase failure rates of fire extinguishers. Under these circumstances, you will want to have your fire extinguishers checked more often.
Have the risks changed?
Fire extinguisher types that were originally installed may not be appropriate if the type of fire risk in your workplace has changed. For example, if additional electronic switchboards have been installed recently, then a Class AE or E extinguisher would also be appropriately installed and maintained. If flammable liquids have been added to productions, then a class B extinguisher would be most appropriate to have on hand. Review your workplace risks and if necessary, update the type of extinguishers located on your facility's premises to properly protect all work areas.
Are all of your fire extinguishers mounted and installed correctly?
Routine checking of the brackets, cabinets or enclosures used for your fire safety equipment will ensure supportive function should your extinguishers be needed for emergency response. They should be solidly mounted to safely secure the extinguisher, while also allowing for labels and inspection tags to be easily read.
Be careful to not locate your extinguishers in a position where accessing them could present additional hazards to a potential user. Wherever practical, extinguishers should be located along regular paths of travel and near building exits.
Do your equipment locations meet visibility standards?
Fire extinguisher signage and locations should be clearly visible from distances of up to 20 meters in all directions of approach.
Will your facility need additional fire extinguishers?
Review the locations of your existing fire extinguishers to determine if more are needed for handling any particular area. Construction or expansion of any coverage area creates a situation where you will need to assess equipment locations and make sure your entire workplace area adheres to AS 2444 standards.
When you have questions about fire extinguisher testing you should consult with a trained fire extinguisher testing specialist to make sure that you understand requirements, standards and how to best implement them. Do you need some help with your fire extinguisher locations or other compliance checks? Feel free to contact us.
Fire Protection Equipment Testing Australian Standards
Fire Hose Reels AS2441 – Fire Hose Reel Testing
AS1851 requires that your Fire Hose Reels be tested every 6 months. We usually carry out fire hose reel testing along with your fire extinguisher tests. Fire Hose Reels are 36m in length and can cover a diameter of approximately 40m from the point of installation.
Emergency and Exit Light Testing – Emergency and Exit Lighting AS2293.1
AS2293.1 requires that all of your Emergency and Exit lights be tested every 6 months, these tests are usually carried out with your Fire Extinguisher Testing and other equipment onsite.
Emergency and Exit lighting illuminates the path of egress outlining exit doors and designated travel ways.
Fire Hydrant Testing – Fire Hydrants AS2419
AS1851 requires that your Fire Hydrants be tested every 6 months, usually carried out with your Fire Extinguisher testing.
Fire Door Testing – Fire Doors AS1905
AS1851 requires that your fire doors to be tested annually. AS1905.1 requires fire doors to close automatically, have a Fire Resistant Level (FRL) tag, NO deadbolts installed or fitted and that all gaps around the top, side and bottom comply with the make of door.
Smoke Alarm Testing – Smoke Alarms AS3786
AS1851 requires that smoke alarms be tested yearly, usually when the fire doors and fire extinguishers are being tested to minimise disruption to the tenant/owner. Every house, home, unit is required to have a suitable number of smoke alarms installed from 1 May, 2006. Smoke alarms should be located on every level of your home. You should replace the battery in each smoke alarm at least once a year.
Annual Fire Safety Statements (AFSS)
What is it?
An Annual Fire Safety Statement (AFSS) or formally known as Form 15a is a certificate signed by an individual which states that the building complies with the relevant standard of performance as stated in the Australian Standards.
Who Needs one?
The council and NSW Fire Brigade. You should also display one in the main foyer or common area of the property and keep one in your records.
Annual Test Record Certificates (ATRC)
What is it?
An Annual Test Record Certificate (ATRC) is a certificate outlining that the fire protection equipment onsite has been tested and maintained. It will note the date of tests and by whom it was tested by.
An ATRC and AFSS are not the same thing.
For Example – The easiest way to explain it would be that you can have your car serviced two (2) times per year or ten (10) for that matter and the car can still not pass registration. It is the same with buildings, even if you have all of the tests completed on your equipment installed onsite you can pretty much guarantee that there will be a few extra things required or changed to meet the original standard of installation.
Did you know that any building other than a house is legally required to issue an Annual Fire Safety Statement (AFSS) to council and the NSW Fire Brigade every 12 months?
Make sure your fire systems are safe and compliant today!
Our fire services are designed to protect you and save you time, money and effort.
Contact us today for a free quote.
About Aegis Safe
Your safety and peace of mind is our objective. Aegis Safe has been helping our clients protect their staff and property with our full range of comprehensive fire protection solutions since 2009. We specialise in installing, inspecting, testing, diagnosing and repairing fire protection systems.
Make sure your fire systems are safe and compliant today!